This is an archived article and the information in the article may be outdated. Please look at the time stamp on the story to see when it was last updated.
AURORA, Colo. -- The suspected gunman in the Aurora theater tragedy, who shot 70 people and killed 12, was charged with 142 counts at a hearing in the Arapahoe County Courthouse on Monday.
Among the 142 charges that James E. Holmes now faces are 24 counts of first degree murder, 116 counts of first degree attempted murder and one count of possession of an explosive device.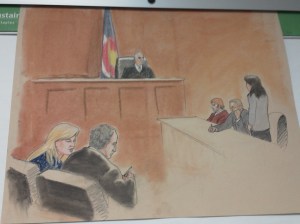 Read the charges against Holmes here.
According to FOX31 reporter Dave Young, who was in the courthouse, Holmes' hair was manicured Monday, and he appeared much more aware of the court proceedings than he was during his first appearance a week ago.
For a full listing of the charges being filed against Holmes, read the full James E. Holmes complaint. The next court appearance in the case is scheduled for 1:30 p.m. on Aug. 9.
Among the large crowd that heard the charges were many of the shooting victims.