This is an archived article and the information in the article may be outdated. Please look at the time stamp on the story to see when it was last updated.
AURORA, Colo. -- Owning a gas station can be dangerous. It's a lesson Anthony Ojoig learned last week after a man pulled up in a taxi to rob him.
"I was shivering the whole time," Ojoig said. "I didn't see it coming."
The man entered the store in the 700 block of Peoria Street and pretended to shop before approaching the counter.
"So here I thought he was getting his wallet but he was getting his gun."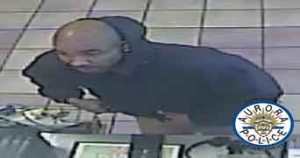 The man left without gunfire but with over $500.
The same man is now wanted for a string of robberies in Aurora including a 7-Eleven in the 1700 block of Peoria, a second robbery at Ojoig's K&J, and a third robbery a day later at a Subway shop on East Colfax Avenue at Havana Street.
All of the stores captured images of the man and anyone with information is asked to contact authorities.