This is an archived article and the information in the article may be outdated. Please look at the time stamp on the story to see when it was last updated.
AURORA, Colo. — Police said Sunday that finding a 6-year-old boy who was reported missing Saturday night is their "highest priority investigation right now."
More than 150 volunteers helped the Aurora Police Department search for David  Puckett at Olympic Park (15501 E. Yale Ave.).
@AuroraPD #FindingDavid #CommunityCommitment. Our APD volunteer search team registering 150+ folks who R helping 2 search 4 David. Thank U! pic.twitter.com/A5EIEke9nw

— Nick Metz (Ret. Police Chief) (@Code4Metz) January 1, 2017
Police said they were also using drones to search for the boy. At a news conference Sunday morning, investigators said it appears the boy left on his own.
The Arapahoe County Search and Rescue, the National Center for Missing and Exploited Children, the Denver Police Department and the FBI are involved in the search.
"We are using search team organizations in addition to local law enforcement partners and APD officers to continue our search including helicopters and bloodhounds," police said on Facebook.
Investigators sent out three emergency notification calls to approximately 27,000 residents in the area to let them know the boy is missing.
"We are asking everyone to check your property. Children will often hide in small spaces and not come out even if called upon," police said on Facebook.
The boy's mother, Stephanie Puckett, was emotional at a news conference Sunday morning.
"Help me find David. … He's only 6 years old," Puckett said. "He's a good boy."
David was last seen wearing camouflage pants, a black shirt, a thin tan coat, and black and orange boots, police said.
David was last seen at 5:30 p.m. Saturday in the 15700 block of East Amherst Place.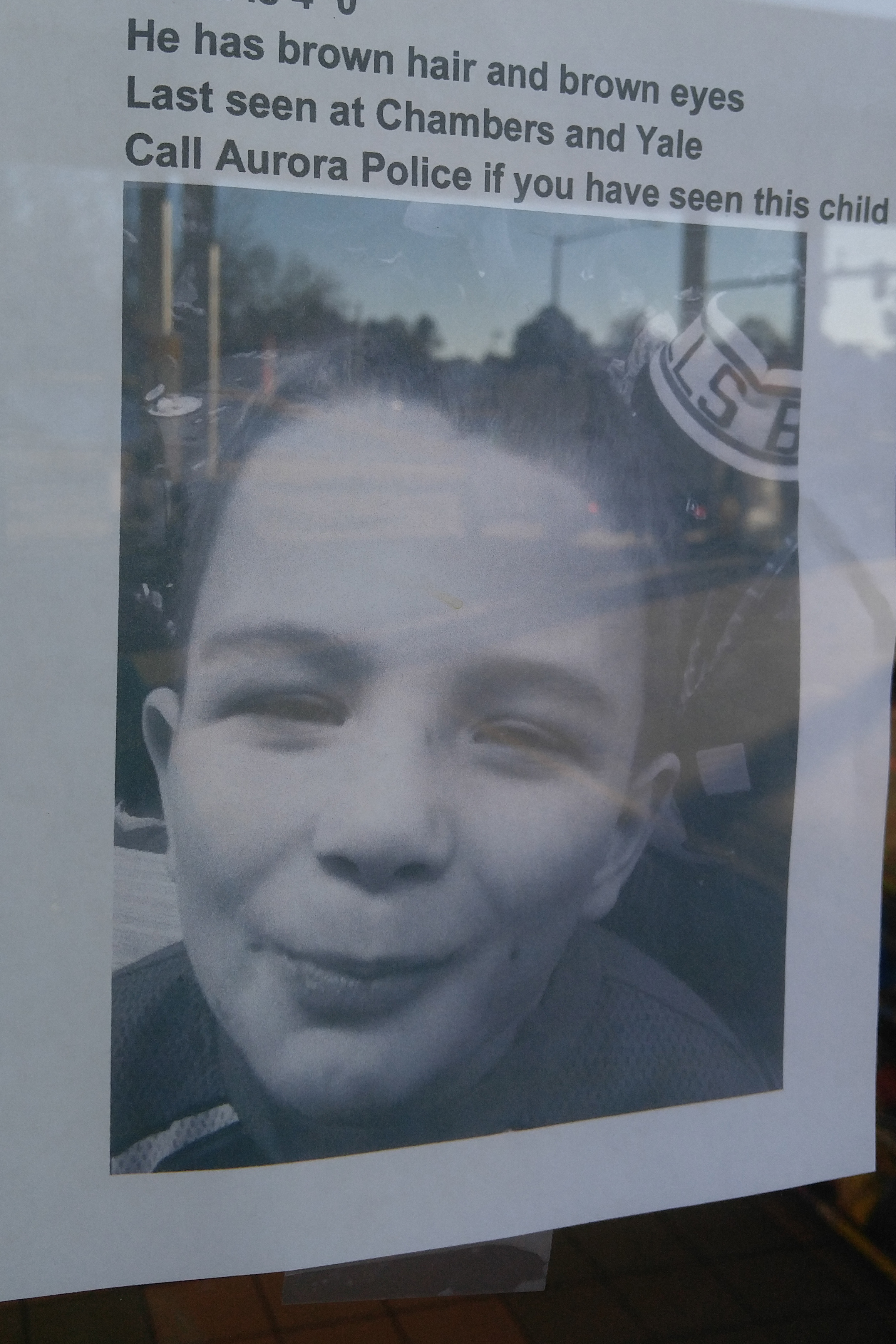 He is described as 3-foot and 48 pounds, with light brown hair and brown eyes. Police said he has a history of wandering away and has a slight to moderate learning disability.
#FindingDavid here is another photo of David. Please call 911 if you see him. Please continue to follow here and retweet. pic.twitter.com/St2WJjmCjS

— Aurora Police Dept. 🚔👮🏼‍♀️👮🏾‍♂️ (@AuroraPD) January 1, 2017
Anyone who sees David is asked to call 911.
#FindingDavid More photos of #Missing 6yo David Puckett. Call 911 if seen. pic.twitter.com/dzjoLFJYhe

— Aurora Police Dept. 🚔👮🏼‍♀️👮🏾‍♂️ (@AuroraPD) January 1, 2017