This is an archived article and the information in the article may be outdated. Please look at the time stamp on the story to see when it was last updated.
AURORA, Colo. – Sandra Ramirez insists the now-infamous photograph doesn't tell the whole story.
"I'm sorry for the way people perceive me, but I'm not a bad mom," Ramirez, 31, told reporters on Wednesday, a day after a photo surfaced showing a gasoline can strapped into a child seat in her SUV, while her two-year-old son, Christian, wearing only a diaper, was restrained with just a lap belt.
The photo was taken by an Aurora Police officer who pulled over Ramirez on May 30 in the area of South Tower Road and East Iliff Avenue during a "Click It or Ticket" seat belt enforcement campaign.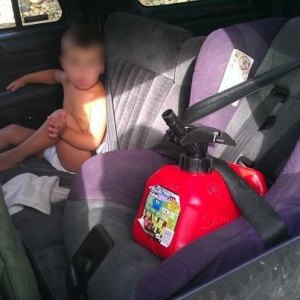 According to Aurora Police, when the officer approached Ramirez's Chevy Blazer he noticed the mostly-naked toddler was sitting in the backseat with only a lap belt fastened. However, next to the young boy was a child seat holding a red plastic gas can.
"My son was in a seat belt as I (was) getting pulled over," said Ramirez. "He's a very smart guy. He can unbuckle his seat belt. He jumped into the backseat on the other side and put on his 'big boy' seat belt."
As for the gas can in the child seat, Ramirez says her 14-year-old son, who was also in the vehicle, placed it there.
Ramirez admits that she and her older son were not wearing seat belts at the time of the traffic stop. She was cited with three zero-point traffic violations related to the incident, and also issued a four-point violation for not providing proof of insurance.
She is due in traffic court on June 29.
"I just can't believe this has all gone the way it has," Ramirez said of the intense interest in her case.
Ramirez, a stay-at-home mother of three, says she plans to sell the Blazer and stop driving.