This is an archived article and the information in the article may be outdated. Please look at the time stamp on the story to see when it was last updated.
DENVER — A controversial piece of art has attracted the attention of many in Denver's RiNo neighborhood.
A school zone sign with a rifle is painted largely and the words "Thought and Prayer Expected" written in bold.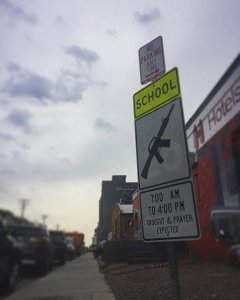 "At first I thought it was a normal street sign," resident Andrew Griffin said. "Then I realized, oh my God , this is a powerful message."
The artist goes by the name "Matador."
"We've seen Matador's work all over town for many years," said John McCaskill, the owner of MegaFauna, an artist's boutique.
The sign was placed outside MegaFauna near 31st and Blake streets.
"He likes to do pretty significant political pieces that are pretty relevant to the time," said McCaskill, who knows Matador.
Matador's Instagram page is full of other controversial pieces on Denver's streets.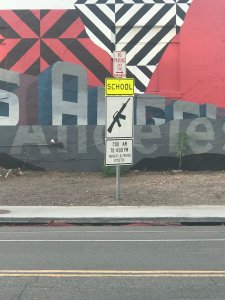 When contacted Wednesday, the artist asked for privacy and to respect his anonymity.
"I feel an interview would take away from the power of the piece. It's a conversation starter in the finest form. What art should be. It evokes a visceral response," Matador said.
The art has since been removed by city officials, but it is possible it might pop up again.
"I wouldn't be surprised if we saw more from the Matador," McCaskill said.