This is an archived article and the information in the article may be outdated. Please look at the time stamp on the story to see when it was last updated.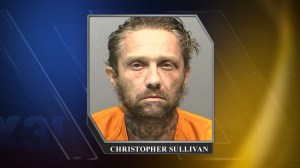 JEFFERSON COUNTY, Colo. — An armed carjacking suspect went on a crime spree around Lookout Mountain Wednesday afternoon, much of which was captured on video by SkyFOX.
The suspect was captured in dramatic fashion by a law enforcement officer in the middle of I-70 as traffic came to a halt. A civilian got out of his car and helped the deputy hold the suspect down on the highway until more help arrived.
The Jefferson County Sheriff's Office says motorcycle deputy Fred Haggett was the lone officer who tackled the armed suspect on the freeway. His brave moves made sure the dangerous actions ended without anyone getting hurt.
The suspect was identified Thursday as Christopher David Sullivan, 37. A person sharing his name and date of birth has a long criminal record, including identity theft and drug charges, according to state records.
There was a second suspect, a female, who was captured earlier without incident.
The crime spree left several crime scenes for sheriff's deputies and state troopers to investigate. Westbound I-70 was closed and traffic was backed up for miles during the investigation.
There were a total of four vehicles involved — either carjacked or attempted carjackings.
Here's how it happened:
It began at 2:40 p.m. when the man fled from a traffic stop on Cabrini Road
At 3:15, he and his passenger are accused of carjacking two victims from a Subaru at gunpoint near Lookout Mountain Park
Next, he's accused of breaking into a home near Centennial Trail and stealing a truck while the homeowner hid
He crashed it a short time later at Cherry Creek
Witnesses say they heard gunfire after the crash
But it wasn't over.
SkyFOX was flying and first spotted a man and woman who looked like they were hiking on Lookout Mountain just after 4 p.m. It turns out both were desperately trying to avoid police. They were carjacking suspects, armed, dangerous and on the run.
They allegedly targeted tourists on Lookout Mountain.
The man eventually left his friend behind. He was clearly armed with a handgun and an assault rifle. He hoped to escape when he came across some parked snowplows. He opened the driver's side door and climbed into two of them, but he gave up on that idea.
It was about that time that the female suspect realized she didn't have a chance. She slid down a hill and surrendered peacefully to an officer.
Not too far away, the male suspect is still searching for a way to get away. He tries to steal a truck from outside a home. The door was unlocked but the keys weren't there. He then breaks into the house.
Remember … all of this is on the video from SkyFOX posted with this story.
Then things really get crazy. Moments after entering the house, the suspect blasts through the closed garage door in an SUV he had stolen. He took off and ended up on some dirt mountain roads near I-70 where the SUV appears to get stuck. He ditched the vehicle and went looking for his next escape route.
His hope was to steal a car from someone on the Interstate. He started pointing his gun and one driver almost stopped. But fortunately that driver realized the danger and sped away.
It looked like the suspect would have another chance, but that's when deputy Haggett arrived. The deputy chased him around a stopped vehicle in the middle of the westbound lanes, grabbed him by the shirt, pulled him in and slammed him down on the pavement. A motorist got out of his car and helped Haggett pin the suspect to the ground until more deputies arrived.
This story is developing. Check back for updates.