This is an archived article and the information in the article may be outdated. Please look at the time stamp on the story to see when it was last updated.
ENGLEWOOD, Colo. — Olympic swimmer Amy Van Dyken-Rouen arrived at Craig Hospital Wednesday afternoon to begin extensive rehabilitation for her severed spine.
Van Dyken-Rouen, 41, was transported to the medical facility, which specializes in spinal cord injury recovery, by Angel MedFlight, Craig Hospital said in a release.
She will join about 40 other patients with similar injuries hailing from across the nation in the hospital's specialized rehab program, the hospital added.
The Olympic champion swimmer is from Colorado. She attended Cherry Creek High School.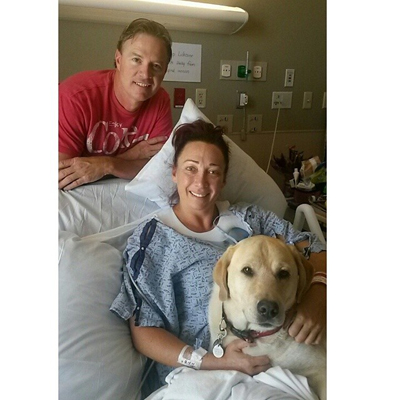 She says she decided to come to Craig Hospital in Englewood because, "it's the best of the best."
Van Dyken-Rouen was airlifted to the hospital after being injured in an ATV accident in Show Low, which is about 180 miles from Phoenix in the eastern part of Arizona.
According to a report, Show Low Police were dispatched to Torreon Golf Club just before 8 p.m. June 6 after receiving a 911 call. Van Dyken-Rouen was conscious, but having trouble breathing and without feeling in her legs.
A witness said Van Dyken-Rouen, who was not wearing a helmet, was seen on an ATV going through a parking lot and launched over a curb. The witness said he ran to Van Dyken-Rouen and found her unresponsive.
Police said Tom Rouen told them he recently changed the throttle mechanism on the ATV from a thumb accelerator to a twist accelerator. There was no evidence of alcohol being a factor, and no charges were filed.
Van Dyken-Rouen, who is a radio talk show host in the Phoenix market, spoke with Phoenix media before departing for Colorado.
"I'm excited to get this new part of my life," Van Dyken-Rouen said at Wednesday's media conference. "It's almost like a rebirth. I get to learn how to do everything all over again, I'm anxious to do that."
The former Olympian wasn't even sure she'd get to this point in the recovery process.
"There was a good chance I wasn't going to make it out of surgery," Van Dyken-Rouen continued. "So it was one of those things where I looked at my husband and we basically said I love you, goodbye, please continue on with your life."
Thankful for the public out pour of support, she said she's ready to start the intensive rehabilitation so she can get back to her life in Arizona. And, while she's had many bad days thus far, she stressed that staying positive, no matter the outcome, is the only way to keep moving forward.
"You can  get through anything as long as you've got a positive attitude," Van Dyken-Rouen. "Once you have that negative attitude, you  kind of go down that rabbit hole and it's really hard to get out."
Watch Van Dyken-Rouen talk about her recovery and coming to Colorado: