This is an archived article and the information in the article may be outdated. Please look at the time stamp on the story to see when it was last updated.
[protected-iframe id="86297f81cd36158967583a4eb0017224-29290497-30415977″ info="http://player.ooyala.com/player.js?embedCode=ppYmQ2djoa4RHnMAqSCbMWpEzx6TvaAj&height=360&videoPcode=dzb3E6lOVg3GbeqCXcWqm8NkQGcl&width=100%" ]
INDIANAPOLIS — Authorities issued an Amber Alert on Sunday for a 16-year-old girl missing from New Mexico.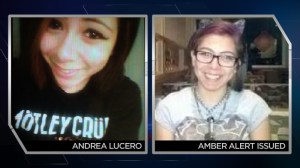 The missing girl was identified as Andrea Lucero, 16, from Rio Rancho, N.M. The police description reads that Lucero is 98 pounds with brown hair and brown eyes.
Lucero was found just after 6:45 on Sunday afternoon in Indianapolis, mother, Rebecca Vigil, confirmed to FOX31 Denver.  
Her mother also shared the news in a public Facebook post.
Police said the suspected abductor was Joe Medina, 37, and 6'1″, 220 pounds with brown hair and brown eyes, pictured below.
Alleged abductor, Medina was taken into custody, KRQE reported.
He may be associated with a black 2011 Lexus convertible (unknown model) with New Mexico license plates 188RFK.
Lucero was abducted by Medina on July 9, 2015, according to Colorado State Patrol. She was last seen wearing a red Rio Rancho High School Junior ROTC t-shirt, black shorts and pink framed glasses.
The abductor was last seen in the area of Geraldine Road in Rio Rancho, N.M.
Police said they were believed to be traveling in or through Colorado in the listed vehicle with possible plans to travel west out of the state.