This is an archived article and the information in the article may be outdated. Please look at the time stamp on the story to see when it was last updated.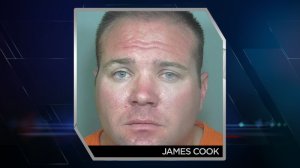 BRIGHTON, Colo. — An Adams County Sheriff's deputy was arrested Thursday, accused of physically forcing a suspect off a rooftop, the Weld County Sheriff's Office said.
James Cook, 33, faces a charge of second-degree assault in connection with an incident that happened on March 21.
Adams County sheriff's deputies and Brighton police officers were called to a domestic violence incident in the 12000 block of Weld County Road 4, the Weld County Sheriff's Office said in a news release.
The suspect, 24-year-old Alejandro Martinez, ran from the scene to a location in Weld County's jurisdiction.
The suspect climbed on the roof of an outbuilding and refused to come down. Cook, an Adams County K-9 handler, climbed the roof to take Martinez into custody.
During the confrontation, Martinez fell off the roof, but witnesses said he was physically forced off by Cook. A thorough investigation by Weld County sheriff's detectives led them to arrest Cook.
Martinez was taken to Good Samaritan Medical Center in Lafayette for injuries he suffered after falling. He was arrested on charges of criminal mischief, third-degree assault, obstructing a police officer and domestic violence.
The Adams County Sheriff's Office said Cook was placed on administrative leave pending the outcome of an internal investigation. Bond was set at $5,000.