This is an archived article and the information in the article may be outdated. Please look at the time stamp on the story to see when it was last updated.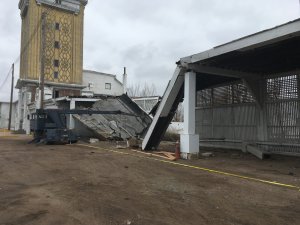 DENVER — A single-vehicle crash at Lakeside Amusement Park late Friday night was the result of an accused DUI driver who fled from a traffic stop, the Lakewood Police Department said Saturday.
A part of the amusement park facing Sheridan Boulevard was damaged in the crash.
A news release said a Lakewood officer tried to stop the driver of a black Acura who was driving recklessly at West Colfax Avenue and Sheridan Boulevard around 11:30 p.m. But the driver fled.
The officer did not initiate a chase, according to police. At 11:42 p.m., the vehicle had crashed at Lakeside Amusement Park in the 4600 block of Sheridan Boulevard.
The driver, 33-year-old Rudolph Valentino Garcia, was taken to a hospital for treatment of his injuries.
Police said once Garcia is released from the hospital, he will be jailed on charges of felony eluding, DUI, driving as a habitual traffic offender and reckless driving.