This is an archived article and the information in the article may be outdated. Please look at the time stamp on the story to see when it was last updated.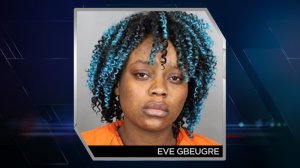 ARAPAHOE COUNTY, Colo. — A 7-year-old girl died in a drowning accident at an apartment complex on Thursday night and her mother was arrested, but the Arapahoe County District Attorney's Office announced Friday night it was not going to file charges against her.
Eve Gbeugre, 27, was being held on $50,000 bond but the district attorney's office said she would be released from custody.
The incident happened about 6 p.m. Thursday when the girl was pulled from the pool at the Country Club Villas at 8828 E. Florida Ave. by a man who later called 911.
When deputies arrived, CPR was performed and the girl was taken to a hospital where she was pronounced dead.
It does not appear any adults were in the pool area at the time the girl drowned, the sheriff's office said. It's unclear how long the girl was in the water before someone pulled her out and called 911.
Investigators believe the girl got access to the pool area when she was left alone in the residence for an undisclosed amount of time.
RELATED: Arrest affidavit
According to an arrest affidavit, Gbeugre told deputies she went to shop at Wal-Mart and left her two children at home because they were not listening to her.
The affidavit said a man called 911 to say a child was screaming in a hallway and saying her sister needed help in the pool. The 7-year-old was found face down in the middle of the pool and the man used a net attached to a pole to pull her out.
A second neighbor said she heard screaming and went to the pool to perform CPR, the affidavit said.
Deputies said Gbeugre arrived home just before 7:30 p.m. and said she had been gone for about an hour.
"Based on information made known to the District Attorney's Office, and in consultation with the Arapahoe County Sheriff, the District Attorney has determined that filing criminal charges against Eve Gbeugre would not be appropriate at this time, and therefore will not be filing criminal charges resulting from this arrest, and the District Attorney requests that Eve Gbeugre be released from custody," the district attorney's office said in a statement.
"Investigation into this matter will continue, and charges may be filed against one or more persons in the future."
It's the second drowning tragedy in the state this week. Two sisters, ages 3 and 6, and their 17-year-old baby sitter drowned in the pool at the Pueblo Grande Village mobile home park on Monday.
Autopsy results released Thursday said all three died of freshwater drowning and there were no signs of trauma. It was ruled an accident.
They were identified as 3-year-old Azucena Gandarilla, 6-year-old Amaya Gandarilla and 17-year-old Joo Lee.
[protected-iframe id="2c90db74c63ae9e8b8cc3884c03ac5f9-29290497-62452405″ info="https://www.google.com/maps/embed?pb=!1m18!1m12!1m3!1d69494.5169991496!2d-104.89784618481791!3d39.66652838012011!2m3!1f0!2f0!3f0!3m2!1i1024!2i768!4f13.1!3m3!1m2!1s0x876c7d7378728701%3A0x878c2cf7759192a4!2s8828+E+Florida+Ave%2C+Denver%2C+CO+80247!5e0!3m2!1sen!2sus!4v1471005683843″ width="100%" height="450″ frameborder="0″ style="border:0″ allowfullscreen=""]