This is an archived article and the information in the article may be outdated. Please look at the time stamp on the story to see when it was last updated.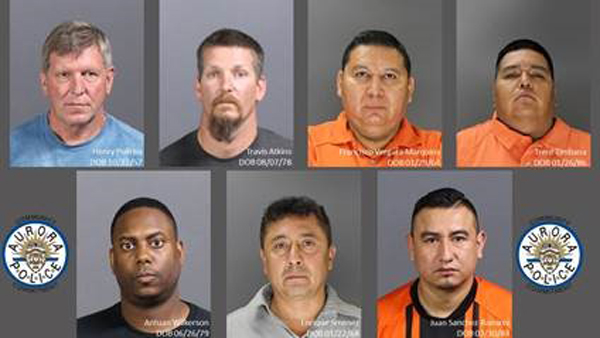 AURORA, Colo. — Seven men were arrested after a two-day child prostitution sting last month, the Aurora Police Department said Tuesday. The department's Internet Crimes Against Children Unit performed the sting on May 18-19.
The seven men were arrested for soliciting for child prostitution and criminal attempt to commit patronizing a prostituted child. Both are felonies.
If convicted, the men could face four to 12 years in prison and would be required to register as a sex offender. They were booked into the Arapahoe County Jail and their cases have been filed with the 18th Judicial District Attorney's Office.
The men have been identified as:
Henry Pollreis, 58 from Lakewood, a self-employed handyman
Travis Atkins, 37 from Parker, a self-employed driver
Francisco Vergara-Marquina, 52 from Denver, a cook
Trent Timbana, 30 from For Washakie, Wyo., an energy auditor
Antuan Wilkerson, 36 from Aurora, a salesman
Enrique Jimenez, 48 from Evans, a manager for a delivery company
Juan Sanchez-Ramirez, 32 from Denver, a cook supervisor