This is an archived article and the information in the article may be outdated. Please look at the time stamp on the story to see when it was last updated.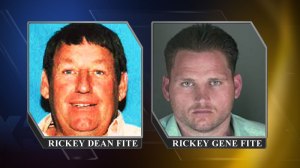 DENVER — Five men have been formally accused in a home repair scam that targeted senior citizens, the Colorado attorney general and Boulder district attorney announced Tuesday morning.
The 66-count, statewide grand jury indictment alleged that Rickey Gene Fite, 29, his father, 55-year-old Rickey Dean Fite, Rodney Jackson, 54, Michael Sullivan, 56, and Emanuel Broadway, 55, traveled throughout Colorado and the Western United States impersonating workers and owners of a home contractor business that specialized in asphalt paving and roofing. The operation ran by the five men defrauded and stole from senior citizens, according to the indictment.
Seniors were victimized in rural areas of Arapahoe, Boulder, Delta, Jefferson, Larimer, Mesa, Montrose, Ouray and Weld counties.
Incidents were reported of the men beginning work without permission, inflating rates after work had been completed and, on one occasion, making unsolicited contact with a homeowner.
In some cases, Rickey Gene Fite allegedly used violent measures.
"Evidence was developed alleging that when confronted, these men often became abusive and in one instance, Rickey Gene Fite caused pain and injury to an older gentleman after knocking him to the ground with his truck," Colorado Attorney General John Suthers said.
Boulder District Attorney Stan Garnett added that, "This case involves allegations of particularly predatory behavior," and his office will prioritize cases in which suspects prey on senior citizens.
Detectives and a crime analyst with the Boulder County Sheriff's Office also played key roles in the investigation.
This is the first case the Attorney General's Office is prosecuting under Colorado's recently enacted Elder Abuse law, Suthers said. Under this law, Colorado seniors are considered to be at-risk adults. Therefore, victimizing them carries tougher ramifications.
The five men are accused of violating the Colorado Organized Crime Control Act and face charges of money laundering, felony theft, criminal attempt to commit criminal exploitation of at-risk elder and tax evasion, stated both the Attorney General's and Boulder District Attorney's offices.
Ricky Gene Fite is currently being held at the Boulder County Jail. Rickey Dean Fite and Jackson are in custody in Arnett, Oklahoma.
Law enforcement has requested the public's assistance in locating Sullivan and Broadway. Anyone with information regarding their whereabouts is asked to call the Boulder District Attorney's Office at 303-441-3700.