This is an archived article and the information in the article may be outdated. Please look at the time stamp on the story to see when it was last updated.
BOULDER, Colo. — The final numbers were crunched and October 2016 was officially the fourth-warmest October on record, according to the Natonal Weather Service. Temperature records go back to 1873.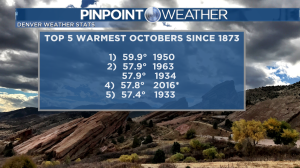 The mean temperature was 57.8 degrees; the mean factors in the highs and lows.
There have been only three other Octobers that were warmer: 1950 (59.9 degrees), and 1963 and 1934 (57.9 degrees).
The average high temperature each day was 74.5 degrees. There were also four record high temperatures set during the month.
Zero snowfall fell at Denver International Airport, the official reporting station for Denver. That makes it the third consecutive October with no snow in the city.
The location of temperature and snow measurement has changed over the years.  It started in downtown Denver, moved to Stapleton International Airport from January 1950 to February 1995, and finally to DIA.