This is an archived article and the information in the article may be outdated. Please look at the time stamp on the story to see when it was last updated.
PUEBLO COUNTY, Colo. — When a van carrying rescue dogs to shelters in Colorado crashed south of Pueblo in January, the driver was killed and four of the dogs got away.
The rescue group that was transporting the dogs now says the final missing dog has been found alive — 22 days after the crash.
Investigators say 59-year-old Charles Roberts was heading north on Interstate 25 on Jan. 13 when he drifted onto the left shoulder and hit a guardrail.
Roberts over-corrected, causing the van to roll over and crash into a rock embankment, according to the Colorado State Patrol.
An officer with Pueblo Animal Services rounded up 22 of the 26 dogs that had been in the van. Two were treated for injuries.
On Jan. 20, Rescued Pets Movement said three of the missing dogs had been found, but one was still missing.
This weekend, the group said the fourth dog had been located.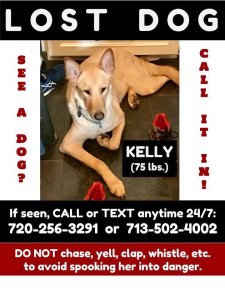 "We are thrilled to announce that Kelly (also known as Willow) has been found, Rescued Pets Movement said on Facebook. "Kelly finally felt safe enough to approach the door of a farmhouse in an area she had been spotted."
The group said Kelly lost 14 pounds and has "very sore paws" and a sore left hip. She's being treated for some eye pain related to the sun and snow, but is expected to recover.
"We are particularly grateful to the search coordinator in Colorado and to all of the people who helped search for all four dogs," Rescued Pets Movement said on Facebook. "Thank you to all of you for your prayers, positive thoughts, and support."
The group also expressed their gratitude for the driver killed in the crash.