This is an archived article and the information in the article may be outdated. Please look at the time stamp on the story to see when it was last updated.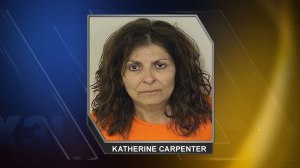 ASPEN, Colo. -- Pitkin County deputies arrested a third suspect Friday in the murder of Aspen resident Nancy Pfister.
Katherine Carpenter, 56, was arrested at 7 p.m. Friday at her Aspen residence in connection to the homicide investigation, according to the Pitkin's County Sheriff's Office.
Deputies reported she was arrested without incident and faces charges of first-degree murder and conspiracy to commit first-degree murder.
Carpenter's arrests came 11 days after 65-year-old William F. Styler III and 62-year-old Nancy Christine Styler were taken into custody, said deputies -- all three are separated at the prison facilities.
According to the Aspen Times, Garfield and Pitkin County deputies executed a search warrant at Carpenter's employee housing at the Christiana Lodge on March 2 -- the dwelling is owned by Alpine Bank, Carpenter's place of employment for over 20 years.
Investigators said the case remains active as they continue to develop leads and interview witnesses.
The sheriff's office added that William and Nancy Styler will be formally charged on Monday at 10:30 a.m., and Carpenter will have an advisement Monday at 3 p.m.
Deputies said they will also hold a press conference that day following the court proceedings.
Carpenter is being held at a Pitkin County Jail without bond, said deputies.