This is an archived article and the information in the article may be outdated. Please look at the time stamp on the story to see when it was last updated.
DENVER — Three police officers took on the role of firefighter last month, arriving to a burning house to pull a tenant to safety, the Denver Police Department said Monday.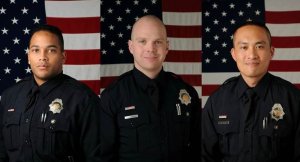 On July 9,  officer Jordan Pittsley was alerted to a large house fire in the 1500 block of South University Boulevard.
He called for backup, and officers William Tran and Jordon Schultz came to help.
The officers were able to beat the Denver Fire Department to the scene and all three went into the burning, smoke-filled home.
The homeowner was a 51-year-old man bound to a wheelchair.
Together, the officers carried the resident to safety, and the Denver Fire Department arrived and successfully put out the fire.