This is an archived article and the information in the article may be outdated. Please look at the time stamp on the story to see when it was last updated.
THORNTON, Colo. — A 2-year-old boy was in inside a vehicle overnight Friday into Saturday as temperatures plunged below zero, the Thornton Police Department said.
The boy was found alive inside the vehicle at East 120th Avenue and Washington Street on Saturday morning.
The boy's mother, Nicole Carmon, was arrested for investigation of felony child abuse, police said.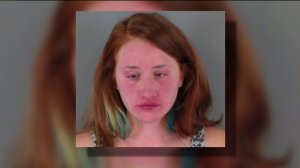 Breanna Sanchez works at one of the businesses that used the parking lot where the toddler was found. She noticed the car when she got to work around 9 a.m.
She thought it was odd because vehicles rarely park in the lot overnight. She said the car was covered in several inches of snow so she couldn't see that anyone was inside.
Police said the boy had been in the car for roughly seven hours.
"I can't imagine staying in a car overnight. I'm freezing just standing here," Sanchez said.
Several hours later, Sanchez said the parking lot was swarming with first responders.
"We just saw a bunch of cop cars and a bunch of firemen and ambulance and stuff, and we didn't quite know what was going on but … it's very upsetting," Sanchez said. "I feel terrible for the kid. I feel really bad that he sat there all night. Really, it's terrible."
Police spokesman Matt Barnes said the Westminster Police Department asked for help about 10:40 a.m. in regards to a child possibly left in a car.
Barnes said police were looking for a 2013 green Ford Fusion that might have been involved in a crash.
He said officers found the car in a parking space about noon and the little boy was inside.
Emergency responders took the boy to the hospital to be treated for hypothermia and frostbite.
Barnes said investigators were interviewing Carmon, 26 of Westminster.
As of Sunday night, the condition of the boy has not been released.