This is an archived article and the information in the article may be outdated. Please look at the time stamp on the story to see when it was last updated.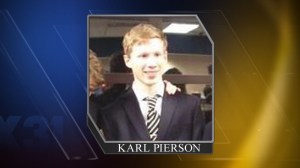 CENTENNIAL, Colo. — A student with a shotgun walked into Arapahoe High School just before noon Friday, apparently targeting a staff member, and shot a fellow student before turning the gun on himself, sheriff's deputies said.
Arapahoe County Sheriff Grayson Robinson said the gunman, identified as 18-year-old Karl Halverson Pierson, entered the school from the western entrance and immediately asked for a teacher.
When the teacher heard the student was looking for him, he left the school — an act Robinson said was "tactically the most important decision he could have made."
"He took himself away from the school in an effort to get the shooter away as well," Robinson.
While the exact motive for the shooting is not yet known, Robinson said it appears the gunman wanted revenge against the teacher "because of a confrontation or a disagreement between the shooter and the teacher."
For reasons that are still not clear, the gunman then opened fire, hitting one fellow student.
Robinson said the gunshot victim, 17-year-old Claire Davis, was taken to Littleton Adventist hospital in serious condition.  After surgery her condition worsened to critical condition.
Two teens were taken to Swedish Medical Center, where they were listed in good condition.Those victims suffered panic attacks and other non-physical problems, and one was released from the hospital about 5 p.m.
There was some confusion, as one victim had another person's blood on her body, the sheriff said.
The suspected shooter, a senior, was found dead of a self-inflicted gunshot wound inside a classroom about 20 minutes later, Robinson said.
The gunman made no attempt to hide the shotgun while he was inside the school, Robinson said.
In addition to the shotgun, authorities found 2 explosives that Robinson described as Molotov cocktails. One of them had detonated inside the school, he said.  The second bomb had been safely contained.
Local and federal investigators gathered outside what is believed to be the shooter's Highlands Ranch home Friday night where they waited for a search warrant before expanding their investigation there.
Some students told their parents that they heard as many as six gunshots fired inside the school.
Paramedics and police rushed to the school, which is located at the intersection of South University Boulevard and East Dry Creek Road.
After the shooting, the school resource officer activated what police call the active shooter protocol — rushing toward the gunfire to stop the violence.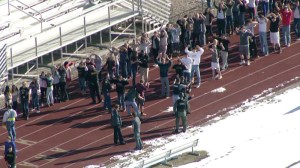 The school was then meticulously evacuated. Students were brought to the track field, searched and then bussed to Shepard of the Hills Church under armed guard.
Dozens of students could be seen walking away from the school, with their hands in the air. Some stood in lines at what appeared the high school track field, where they appeared to be undergoing police pat-downs.
Anxious parents rushed to the church looking for their son or daughter.
There are about 2,200 students at Arapahoe High School.  The school is just eight miles away from Columbine High School, the site of another tragic shooting that left 13 dead in 1999.
Gov. John Hickenlooper said Arapahoe High is part of a "good school district" that is now dealing with a the "all too familiar situation of gunshots, and parents running to the school and the horror."
Students describe hearing gunfire, hiding
Student said they had been trained to move to corners of classrooms where they would not be visible.
Colton Powers said he heard gunfire while in his English class. His teacher turned off the lights and locked the door, Powers said.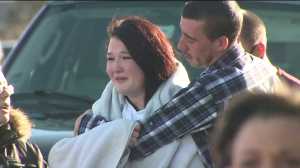 "We ran to a corner so they couldn't see us," Powers said. "I'm just glad to be here with my mom."
"It's hard to see this happening again," Powers' mother said. "It's a terrifying experience as a parent. This is the last thing you ever want to go through."
"You think it's a drill at the beginning," said James Dalrymple. "It's surreal."
Ninth-grader Whitney Riley was getting ready to grab her computer from her locker when the shooting began.
"We were having fun and laughing and then, all of a sudden, we heard a really loud bang," the 15-year-old said.
"My teacher asked what it was and then we heard two more and we all just got up and screamed and ran into a sprinkler system room."
Area schools go on lockout
Multiple schools in the metro area were placed on lockdown or lockout after the shooting as a precaution.
All Littleton schools were placed on lockdown (meaning classes would be stopped) and that Cherry Creek and Elizabeth schools were placed on lockout (meaning doors were locked, but classes resumed as normal).
Douglas County School District said its schools had been placed on lockout, as well.