This is an archived article and the information in the article may be outdated. Please look at the time stamp on the story to see when it was last updated.
COMMERCE CITY, Colo. -- They're hoping money talks -- $20,000 to be specific -- when it comes to getting information on the attempted murder of a Commerce City police officer who was shot by a driver while on patrol.
Officer Kevin Lord, an eight-year veteran, was shot at close range on Sunday morning while making a traffic stop in the 9700 block of Peoria Street. Lord seriously injured but was wearing a bulletproof vest and is expected to survive.
Several police agencies, including the FBI and ATF, have contributed up to $20,000 for information leading to the arrest and conviction of a suspect.
"I have a message for the suspect: 'You turn yourself in'," says Commerce City Police Chief Troy Smith.
It's a request that will likely go ignored. So, police are using another tactic.
"These cases hinge very, very often on one piece of information, or one tip," says Stan Hilkey, Executive Director of the Colorado Department of Public Safety.
It's a tip these law enforcement officers hope they can coax with some cash.
"We are contributing $5,000 towards the reward," says Ken Croke, ATF Special Agent in Charge.
They say money talks. So can $20,000 loosens lips?
"There is no higher priority for us than the attempted murder or murder of a peace officer," says Tom Ravenelle, FBI Special Agent in Charge.
Police say the suspect was inside a maroon, 90's model Nissan Pathfinder parked in the middle of a desolate dirt road about 7 a.m. Sunday, when officer Kevin Lord walked up to the driver's side door.
"Officer Lord was able to communicate with the suspect, but the suspect never spoke to Officer Lord," says Smith.
Instead, the suspect fired one round into the officer's chest.
A bulletproof vest likely saved his life.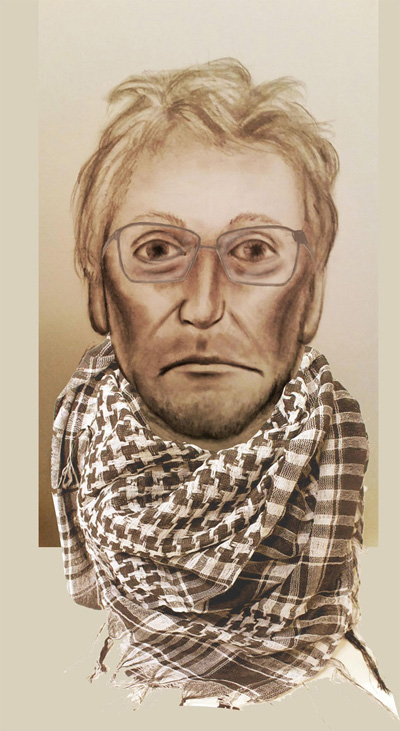 On Monday, investigators released a sketch of the suspect wanted in the shooting of Lord.
The suspect is described as a white male in his late 40s or early 50s, with brown hair, a thin build, wearing glasses and a black and white scarf around his neck.
"It's incumbent on us to find him, to prevent him from doing this to anybody else," says Ravenelle.
Police say pay attention to his unusual scarf--a sheema--worn by soldiers in the desert to protect from sandstorms.
And note the left corner of the eyeglass frames held together by black tape.
They are small details they hope lead to a big break.
"It's been a difficult time for us as an organization, and for anyone who puts on the uniform or badge before they go to work," says Smith.
The license plate on the late-90's Nissan Pathfinder, 697UNZ,  is registered to another car not connected to the case.
Police think the suspect has probably since changed it out anyway.
So they want the public to focus on the Pathfinder itself, which has minor damage to its right rear bumper, and possible damage from bullets.
Even without the motivation of money, the public has stepped up.
About 60 tips have already come into the Commerce City Police hotline alone so far. You can reach that hotline at 303.289.3626.
Now, Crime Stoppers has opened its hotline for tips too at 720.913.7867.