This is an archived article and the information in the article may be outdated. Please look at the time stamp on the story to see when it was last updated.
NUCLA, Colo. — Fourteen wildfires continue to burn across Colorado — mostly on the Western Slope.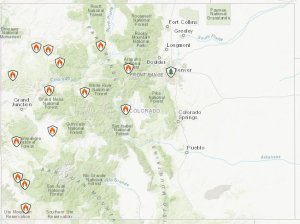 The Bull Draw Fire in southwest Colorado has grown to more than 6,000 acres with only 30 percent containment.
"We had no moisture to speak of this winter, not much snow at all," said Jane Thompson, a Nucla resident. "You can sit in the living room at night and smell the fire."
While the Bull Draw Fire has resulted in limited evacuations, Thompson says it is still a drain on the community because it needs to be put out.
More than 100 individuals are devoted to fighting the fire and many times they need to drive an hour just to grab water in the San Miguel River.
"There is no water up there," Thompson added.
The growing fire season in Colorado is attracting the attention of environmentalists.
On Tuesday, they held a rally near the state Capitol encouraging lawmakers to connect the growing number of fires with climate change.
Chrissy Esposito with the nonpartisan Colorado Health Institute said the issue is impacting Coloradans across the state because of the impact on air quality.
"Smoke has the ability to travel hundreds of miles," Esposito said.
"Wildfire smoke has matter, it can impact your chest, your eyes, your nose, and it can prevent people from recreating outside – wildfire smoke is associated with low birth weight."