This is an archived article and the information in the article may be outdated. Please look at the time stamp on the story to see when it was last updated.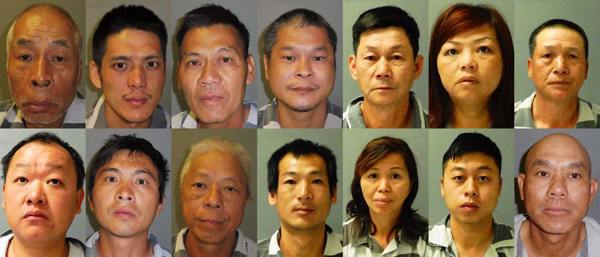 GARFIELD COUNTY, Colo. — A traffic stop led authorities to a large illegal marijuana grow site and the arrest of 14 people on Monday, the Garfield County Sheriff's Office said Thursday.
A deputy made a traffic stop on a truck and several harvested mature marijuana plants were discovered. The truck's origin was traced back to the illegal grow operation on 30 to 40 acres between Rifle and Silt.
The sheriff's office said 14 Chinese nationals — 12 men and two women — were arrested and detained at the Garfield County Jail, accused of growing about 3,000 marijuana plants.
The sheriff's office said some of those arrested are believed to be in the country illegally and another half-dozen people fled the scene on foot when the raid started and have not been caught.
The sheriff's office is assisting the Drug Enforcement Agency, the local Two Rivers Drug Enforcement Team and the U.S. Immigration and Customs Enforcement in the investigation.
Officials are working to determine whether human trafficking or forced labor was involved. The property owner has not been located by investigators.
[protected-iframe id="0dfe7053c0adc35f600552546aa7eff2-29290497-62452405″ info="https://www.google.com/maps/embed?pb=!1m18!1m12!1m3!1d234401.64014609915!2d-107.87717311909145!3d39.47374124479307!2m3!1f0!2f0!3f0!3m2!1i1024!2i768!4f13.1!3m3!1m2!1s0x0%3A0x0!2zMznCsDMyJzEyLjkiTiAxMDfCsDQyJzMzLjYiVw!5e0!3m2!1sen!2sus!4v1474559006951″ width="600″ height="450″ frameborder="0″ style="border:0″ allowfullscreen=""]