This is an archived article and the information in the article may be outdated. Please look at the time stamp on the story to see when it was last updated.
THORNTON, Colo. — Tatum Gonzales called the whole family together on her 10th birthday but not for the reason you might think.
"Make a change to the world," she said as she stood in her mom's Thornton kitchen, making a turkey and cheese sandwich.
Tatum's only wish on her 10th birthday was to help feed the homeless.
"I don't think it's right that all of us get to eat and they don't," she said. "They might be starving so I just thought of this idea for my birthday."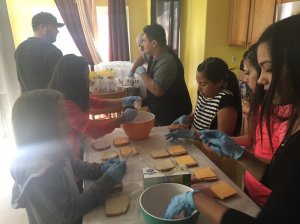 Family and friends filled the kitchen, put on plastic gloves and pitched in to make 100 sack lunches. They even decorated each of the bags.
"She's got a really kind heart. She just wants to help people. I mean, not many kids are thinking about others," said Tatum's father, David Gonzales.
"She said anybody who wants to come and help can come and help, that was her mission," mother Roseann Marez said.
Her mission was to get it all to downtown Denver where people gather outside the Denver Rescue Mission.
"We saw a family that needed food so we're going to go give them [a meal]," she said standing in a parking lot across the street.
They found no shortage of those in need, but her family was greeted by steady stream of people who were nothing but grateful.
"I want to thank you and happy birthday," said Rose Shipman, who has been homeless for nearly a year. "Thank you and God bless you."
It didn't take long before all their donated food was almost gone.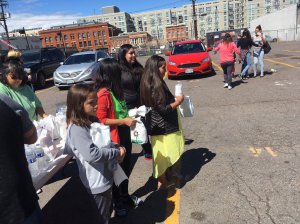 "I like them coming to us and saying thank you," Tatum said. "I know I'm only 10 years old but I know I can make their day. And I'm happy of what I did."