GlobeNewswire
Myriad Genetics Issues 2022 Environmental, Social and Governance Report
News provided by
Myriad Genetics, Inc.
Sep 19, 2023, 7:00 AM ET
SALT LAKE CITY, Sept. 19, 2023 (GLOBE NEWSWIRE) -- Myriad Genetics, Inc., (NASDAQ: MYGN), a leader in genetic testing and precision medicine, today released its second annual Environmental, Social and Governance report, highlighting key efforts that reflect its commitment to conduct operations as a responsible, equitable and sustainable partner in the healthcare industry.
"At Myriad, we understand the important role we play in advancing health equity and social justice," said Paul Diaz, president and chief executive officer, Myriad Genetics. "We also recognize our responsibility to operate in harmony with the environment which includes efforts to minimize our impact on the climate. In our 2022 ESG report, we highlight how these topics are directly linked to our purpose and values, and share updates on our progress and plans to remain a transparent and accountable corporate citizen."
Key highlights from the report include:
Advancing scientific research and patient care. Myriad is sharing data for use in clinical care and scientific research in several ways, such as hereditary cancer and prenatal data with ClinVar and hereditary cancer data with the California and Georgia SEER registries. Myriad also established the Precise Treatment Registry, which gives clinicians access to clinical insights across patient populations and the ability to explore hypotheses in real time.
Broadening affordable access to genetic testing for all patient populations. In 2022, Myriad provided more than $31 million in financial assistance to 63,000+ uninsured and underinsured patients, offering financial assistance, free testing, and direct pay options to those in need.
Progressing diversity, equity and inclusion efforts. Myriad is committed to recruiting, hiring and promoting team members from diverse backgrounds. At the end of 2022, women made up 62% of the Myriad workforce and 45% of leadership roles.
Protecting our environment. Since 2019, Myriad has recycled approximately 102 tons of plastic from its Salt Lake City laboratories, including 31.4 tons of plastic during 2022. Myriad is working to bring its Labs of the Future online which will transform how it conducts operations and will significantly reduce its environmental footprint.
For more information about Myriad's ESG efforts, read the 2022 report
About Myriad Genetics
Myriad Genetics is a leading genetic testing and precision medicine company dedicated to advancing health and well-being for all. Myriad develops and offers genetic tests that help assess the risk of developing disease or disease progression and guide treatment decisions across medical specialties where genetic insights can significantly improve patient care and lower healthcare costs. For more information, visit www.myriad.com.  
Safe Harbor Statement
This press release contains "forward-looking statements" within the meaning of the Private Securities Litigation Reform Act of 1995, including statements that the company's laboratories of the future will transform how it conducts operations and significantly reduce its environmental footprint. These "forward-looking statements" are management's expectations of future events as of the date hereof and are subject to known and unknown risks and uncertainties that could cause actual results, conditions, and events to differ materially and adversely from those anticipated. Such factors include those risks described in the company's filings with the U.S. Securities and Exchange Commission, including the company's Annual Report on Form 10-K filed on March 1, 2023, as well as any updates to those risk factors filed from time to time in the company's Quarterly Reports on Form 10-Q or Current Reports on Form 8-K. Myriad is not under any obligation, and it expressly disclaims any obligation, to update or alter any forward-looking statements, whether as a result of new information, future events or otherwise except as required by law.
| | |
| --- | --- |
| Media Contact: | Investor Contact: |
| Glenn Farrell | Matt Scalo |
| (385) 318-3718 | (801) 584-3532 |
| PR@myriad.com | IR@myriad.com |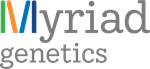 NOTE: This content is not written by or endorsed by "KDVR", its advertisers, or Nexstar Media Inc.
For inquiries or corrections to Press Releases, please reach out to GlobeNewswire.