Toyota on Tuesday confirmed that it is bringing a Crown SUV to the U.S. The SUV debuts Nov. 14, ahead of the 2023 Los Angeles auto show.
Last month Toyota released a teaser of what it described as a hybrid midsize SUV that appeared similar to the Crown Estate concept shown in 2022. It hinted that Toyota was readying a Crown SUV for the U.S. to be sold alongside the existing sedan, although there was no mention of the Crown name at the time. Now Toyota has confirmed that the SUV will wear the Crown name.
Toyota Crown Estate wagon concept
Toyota launched the high-riding 2023 Crown sedan in the U.S. last year as a replacement for the Avalon, marking the return of the Crown name to the U.S. for the first time since 1972. But the sedan is just one of four distinct body styles Toyota plans for the nameplate.
Another is the rakish Crown Sport crossover that launched in Japan earlier this month. A more traditional-looking SUV and a low-slung sedan are also planned. The traditional SUV, previewed by the Crown Estate concept, appears closest to the body style teased for the U.S. The taillight design shown in the teaser looks similar to that of the concept.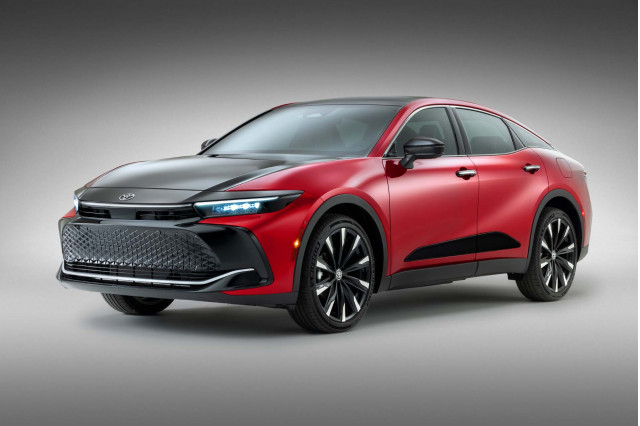 2023 Toyota Crown
Powertrains will likely be shared with the U.S.-market Crown sedan. That model is currently offered with two hybrid all-wheel-drive options, both with an electric motor that powers the rear wheels, as is typical for Toyota hybrids. The standard powertrain uses a 2.5-liter inline-4 gasoline engine, while an optional version employs a turbocharged 2.4-liter inline-4. Outputs are 236 hp and 340 hp, respectively.
A plug-in hybrid powertrain has also been rumored for the Crown sedan, and it could be added to the SUV as well. The Japanese-market Crown Sport debuted with such a powertrain, using a 2.5-liter inline-4, though Toyota hasn't published performance figures yet.
Related Articles